Celebrity Shoe Watch: Selena Gomez Struts Her Booties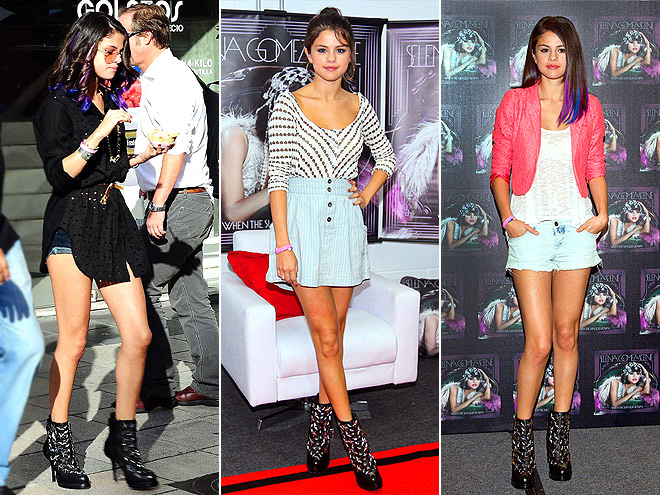 Next to Justin Bieber, Selena Gomez seems to be enamored with her boots – specifically her Jeffrey Campbell's "See-Stars" stiletto boots.
These star-studded leather booties feature a 4 1/2″ stiletto heel with a 1″ chunky -style platform. I think they are adorable and should be versatile to wear with shorts, skirts, skinny jeans and dresses – pretty much a year round shoe!
These Jeffrey Campbell boots are available at Nordstrom ($279.95) in black with silver stars, but take a peek at an optional look-a-like shoe from dollhouse.com:
Tiva Studded Shooties look strikingly similar in style, but use much smaller stud elements (which some of us may prefer.) Like Campbell's 'See-Stars,' the Tiva's also have a 4 1/2″ heel, with just a slightly larger 1 1/2″ platform. You will get man-made material instead of the imported leather, and an adjustable buckle strap instead of a side zipper (which I find very stylish!)
The biggest difference between these two shoes is the price tag. Tiva Studded Shooties retail for $59.00 (now on sale for $25.99!)
Credit: Ramey; AKM Images; Victor Chavez/Wireimage