Love Kim Kardashian or not, the newly engaged reality star certainly knows what is hot this fall – like her over-the-knee boots.
A big shoe trend for the cooler months, tall boots that can fold over to become knee high boots are being worn by celebs everywhere.
Kim's 3.1 Phillip Lim boots sell for over $900, but if you are looking for a similar pair with a lower price tag, check out Colin Stuart's over-the-knee Riding Boots at Victoria's Secret.com. These may not be all leather, but they are cute and have a sweet buckle detail. Best of all, they come with a $148 price tag!!
And if these are not quite right for you, no worries. Victoria's has many, many tall boot styles for fall and winter available right now for you to choose from – at pretty affordable prices!
Oct 31 2013
A beautiful (and newly married) celeb is wearing this gorgeous pair of leather ankle boots – can you guess who this celeb is?
Yep, that is Zoe Saldana rocking those Rock and Bone Ankle Booties in black leather.
Gorgeous. (and Zoe's new hubby, Marco Perego is pretty gorgeous himself!)
Photo Credit: GoldenEye /London Entertainment

Oct 28 2013
Cole Haan boots on are on sale now at 6PM.com. Combine the awesome sale prices with their free shipping and you can end up saving quite a bundle. This might be a perfect time to start your holiday shopping for those shoe divas on your list!
These boots are a favorite of mine. They are easy to put on and take off as they have the fabulous side zipper. They feature a 2 3/4 inch stacked chunky heel, leather uppers,and leather lining.
Knee-high boots for fall are just about mandatory (in my opinion, anyway!!) and these Patricia Wedge Boots are fabulous. They are priced a bit higher than I would like, but oh check out that two-tone style! These pull-on leather boots feature
buckled straps, comfy rounded toe styling and 2 3/4 inch wedge heel with a 1/2 inch platform. And I know I mentioned that the price is more than my budget likes, but still these boots are priced much lower at 6PM.com than their normal MSRP price of $368 – so really a great deal when you add in free shipping!
Take a look at the complete fall collection on sale, and you may just find yourself doing some early Christmas shopping!
Sep 30 2013
In keeping with Breast Cancer Awareness Month this October, Ugg Australia is helping bring awareness to the fight against breast cancer with their annual Pink Ribbon shoe Collection. The company has already donated more than $40,000 to Susan G. Komen for the Cure in 2013 alone. This year, along with the pink shoes in the collection, you will also find soft grays and warm browns to choose from.
These limited edition Mini BAiley Bow gray Uggs are embroidered with the signature pink ribbon at the heel. Classic coziness from Ugg!
And for true fall coziness, Uggs is featuring limited edition Ansley Moccasins. They are available in the warm chestnut brown with a pink sheepskin lining and come embellished with the signature pink ribbon, glittering in genuine Swarovski crystals.
And of course, you can always go with the traditional pink shade in honor Breast Cancer Awareness month –
The ANSLEY CHARM – BREAST CANCER LIMITED EDITION Moccasin features a Swarovski crystal charm detail as well as the signature pink ribbon detail at the heel.
And if you are interested in more ways to help find the cure for breast cancer, visit breastcancersite.com. You will be able to shop at their online store. You will find pink ribbon shoes, slippers, boots, sandals and socks, as well as non-shoe items like jewelry, apparel, accessories and housewares. Please keep in mind that any and all purchases made at the site will help to fund mammograms.
Sep 27 2013
I love Fall because to me it is a 'comfort' season. This is the time of year where we get to wear cozy comfy sweaters, our favorite pair of jeans and of course, awesome boots!! Shine has a collection of perfect boots for Fall this year, and every single pair is priced under $100. I love so many of them, and want them all of course, but I narrowed down my top 3 picks and here they are!
Cute and stylish, these side-zipper boots are made from vegan-leather (Love that!) I also appreciate the rubber soles!
These boots blend just the right touch of Western and cuteness! They would look great paired with long comfy sweaters and jeans, or with a casual long dress.
A true everyday shoe that will go with just about any outfit this Fall. These black ankle booties are super easy to put on and pull off and look casual yet chic at the same time. Definitely a pair of everyday boots that every girl should have in her closet. BTW, did you notice the price of these booties??
Sep 25 2013
These Charlotte's Web inspired black ballet slippers are perfect for Halloween season. Unfortunately, this particular pair of velvet flats have a scary price tag ($795)! Boo!
But I am thinking this is a cute d.i.y. trick for Halloween. Right? All you really need are plain black ballet slippers  and something to create the web embellishment. Things like white thread, fabric paint, or pretty white beads could all work, or just whatever you want or happen to have on hand that you can use to make the web design on the shoe.
Pretty much an easy-peasy project for Halloween.
If you are a lucky duck however, and can afford to just go buy these cute Halloween-inspired shoes  from Charlotte Olympia, you will be happy to know that the spider webs are designed with dazzling crystals – which may help explain that price tag.
They also feature a classic grosgrain trim and o.5 inch heels that are also embellished with crystals.
Charlotte Olympia Charlotte's Web Embellished Velvet Slippers @ net-a-porter.com.
Sep 24 2013
Green is one of the biggest color trends for Fall 2013. This may be one of the reasons I love Vince Camuto's 'Hallee' pumps so much. The come in a gorgeous Hunter green color that simply defines the cooler weather we should hopefully be experiencing soon!
Another stylish trend these shoes feature is the 'no platform' look. I like platform high heels as much as anyone, but I am also liking the sleek sexy line of these shoes. The look reminds me of those svelte high heels actresses wore a long long time ago (yea, I watch old black and white movies on TV!!)
These shoes feature a 3 3/4″ high heel, suede uppers and a synthetic lining and sole.
Aside from being gorgeous, these imported high heels also fall under $100 (priced at $97.95 @ Nordstroms now.)
Vince Camuto  "Hallee' Pumps @Nordstrom.
Aug 31 2013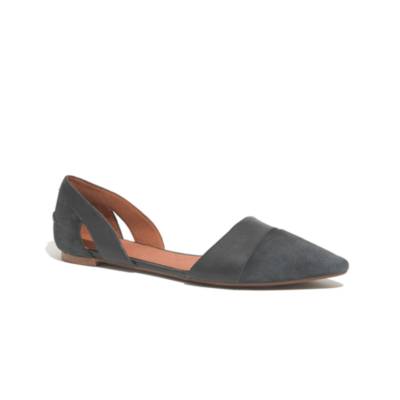 Pointed toe flats are making a big comeback this fall, along with the color blue. So I think these Madewell d'Orasy flats are a perfect combination of both fashion trends. They make a great 'go-to shoe' that you can slip on easily and would look great paired with jeans, shorts or skirts.
These imported flats feature leather and suede uppers, man-made heels and leather lining. Even though I am not such a big fan of flat shoes myself, I have to admit these look comfy, stylish and very cute!
They are also available in a sleek two-tone black design which gives them a dressier appearance.
d'Orasy Madewell Flats – $128 @ https://www.madewell.com
Aug 30 2013
Are you shopping for Halloween shoes yet? Because, you know, Halloween is here. Well, almost here. Well, stores are putting out Halloween stuff already, so that must mean it is almost here, right?
It usually annoys me that stores start prepping for holidays while we are technically still in summer. But this year, I am kind of okay with it. I think I am so tired of the heat this summer that I am more ready than ever for autumn days, chilly winter evenings and yes, even rain. So bring on the pumpkins, the costumes and the scary decorations.
Speaking of costumes, I have started searching about the web for Halloween shoes (have absolutely no idea of what I will be this year – if anything at all – but it is always fun to look.) and found some cute possibilities.
Don't you think these black and white pumps  would be perfect for a 'gangster-lady' type costume?
Tall pink boots  are made for a sexy go-go-girl costume – just like these Kiki boots from Funtasma by Pleaser,
These sexy 'faux' gold knee high boots  could make me you look like a super-hero in a flash!
And for a bit of fun and an easy way to get in the spirit, these black and white Halloween socks  will do the trick!
Aug 27 2013

I came across Aerosoles 'Press Rolease' pumps in a magazine I was reading the other day, and fell instantly in love with these shoes in dusty blue suede. They are almost as adorable in red too, but this fall blue is like the new neutral, and it happens to be my favorite color as well.
The lacing detail in front and the back zipper makes these dress shoes sexy yet cute at the same time. They feature a three inch covered chunky heel with a semi-rounded toe. These Mary-Janes come with the famous Aerosoles Diamond Flex Soles which keep feet comfy and happy!
Best part? They are under $100.
Aerosoles Press Rolease Pumps – $89.00 @aerosoles.com