Celebrity Shoe Fashion Gone Bad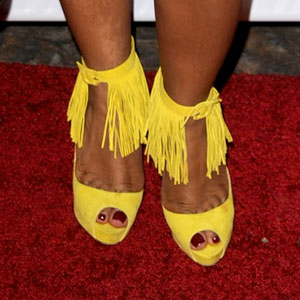 .
Ah. Fringe on yellow shoes is not a good idea in my book. Can you guess which celebrity stepped out wearing these brightly colored fringed peep toes?
Want a hint?
This celeb is a new mommy (Which may account for her lack of fashion sense recently- hormones, lack of sleep, you know…..)
Give up?
The lady in yellow (shoes) is none other than new mom, Christina Milian. Check out Christina's entire ensemble here.